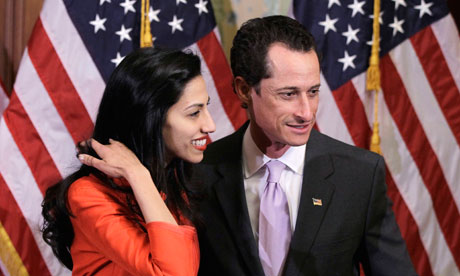 This guy is going to need a miracle to pull out of the troubles he is in…good luck with that! Don't post embarassing pictures of yourself on the internet! A lesson for everyone…Weiner's problems are just beginning..starting with Huma…
Pass it on,
Dr Anthony
Yepod.com   
---
This article titled "Anthony Weiner's wife Huma Abedin reportedly pregnant" was written by Ed Pilkington in New York, for The Guardian on Thursday 9th June 2011 00.08 UTC
Huma Abedin, the wife of the Democratic congressman Anthony Weiner, who is currently engulfed in a cringe-inducing scandal over sexually suggestive images of himself he sent over the internet, is reportedly pregnant with her first baby.
According to the New York Times, the couple have told family and intimate friends that Abedin is pregnant.
The news comes out just two days after Weiner, a rising star within the Democratic party, made a grovelling televised apology in which he admitted he had sent semi-clad photographs of himself to at least six different women, some of which had occurred after his marriage.
The politician at first denied he had sent via Twitter a photograph of himself in his underpants. For a week he claimed that his account had been breached by a hacker.
Even within a party sadly accustomed to sex scandals – the Democratic governor of New York Eliot Spitzer was forced to resign after it was revealed that he enlisted the services of prostitutes and the former Democratic presidential candidate John Edwards is currently facing charges that he used campaign money to hush up an affair – the Weiner scandal has been excruciatingly embarrassing in its detail.
Yet the New York representative has doggedly refused to resign. He is currently engaging in a round of calls apologising to top Democratic figures in an attempt to save his political career.
Abedin is herself a prominent figure in Democratic politics. She has been a close aide to Hillary Clinton since the 2008 presidential nomination race and she continues to work for the secretary of state. As news of the pregnancy broke, the two women were in the air bound for north Africa on an official visit.
guardian.co.uk © Guardian News & Media Limited 2010
Published via the Guardian News Feed plugin for WordPress.