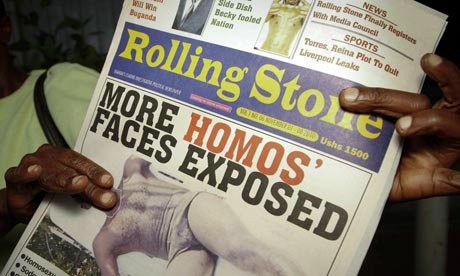 People around the world still being executed for their sexual orientation…what the hell are they thinking?  Homophobia? Human life can be taken away for being different…because a sector of a population doesn't fit with a majority…many of my friends tell me that I over-react…that I don't know the people being killed…perhaps they are right…but I will never accept the killing of innocent people…the taking of a precious life…
Pass it on, 
Dr Anthony
---
This article titled "Africa and Middle East in spotlight as group launched to tackle homophobia" was written by Saeed Kamali Dehghan, for The Guardian on Sunday 11th September 2011 23.05 UTC
An international pressure group is to be launched in Britain on Tuesday to tackle the rise in homophobic violence around the world, with a focus on Africa and the Middle East.
The UK's three main political parties have declared their support for Kaleidoscope, an independent group campaigning for the rights of the lesbian, gay, bisexual and transgender communities, after a series of high-profile attacks on sexual minorities in developing countries.
In January, the Ugandan gay rights activist David Kato was bludgeoned to death after he was pictured on the front of the Ugandan tabloid Rolling Stone alongside the headline Hang Them. Last week three men were executed in Iran for homosexuality.
According to Kaleidoscope, more than third of all countries still have laws against consensual homosexual acts and 38 of the 54 members of the Commonwealth criminalise homosexuality.
Bisi Alimi, a Nigerian gay rights activist who fell foul of the authorities after being the first person in his country to come out on a national television, is among the founding members of the organisation.
"I was attacked, tied up and beaten in my own home in Lagos. For the first time in my life I not only saw a gun but I felt it right against my head. I was forced to leave my country. My dream is that others like me will be free to stay and be happy, surrounded by the love of their friends and families," he said.
Despite some progress for gay rights in the US and Latin America — such as the abolition of the "don't ask, don't tell" policy in the US military and the legalisation of same-sex marriage in New York and Argentina — the global campaign for the rights of sexual minorities has experienced a series of setbacks in recent years.
In May, the UN human rights chief, Navi Pillay, warned that hate crimes against LGBT communities were on the rise around the world.
Speaking from Uganda, Francis Onyango, the lawyer representing several other gay activists also named by Rolling Stone, said not much had changed since Kato's death. "The danger is always there. All activists mentioned in that newspaper still face death threats by religious fanatics in their so-called war on homosexuality, and stigmatisation remains widespread. But international pressure can play an important role."
The new initiative has pledged to use "effective international lobbying" with its access to the UK government and the EU to delay or prevent homophobic legalisation around the world and help strengthen groups of men and women "who take a stand against injustice and discrimination in their own countries".
Apart from its focus on international discrimination against LGBT people, Kaleidoscope will also campaign for national causes.
"There are still some big issues to address," said Lance Price, a Kaleidoscope founding member and former 10 Downing Street media adviser. "Gay marriage is one; the attitude of the immigration service towards people seeking refuge from countries where their lives could be in danger is another."
Despite the achievements in the UK, the prominent gay rights activist Peter Tatchell said many refugees fleeing homophobic persecution "are still being refused asylum and locked up in detention centres like common criminals". The UK Border Agency rejected an asylum application of a gay Iranian on the basis that he could 'remain discreet' in his country, although homosexuals are executed there. The ruling was later reversed in court.
Paul Canning, an activist who has campaigned for those with a well-founded fear of persecution who have been refused asylum, highlighted the case of the Ugandan gay man Robert Segwanyi.
"Segwanyi fled jail and torture for what he hoped would be sanctuary here," he said. "Despite everyone describing him as 'obviously gay', the Home Office still wants to return him to what would be a likely death: it has taken a big campaign to – we hope – stop them. There are many cases just like Robert's."
guardian.co.uk © Guardian News & Media Limited 2010
Published via the Guardian News Feed plugin for WordPress.