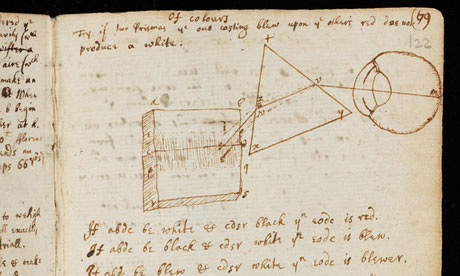 Wow…Sir Isaac Newton's notes are now online..! All due the efforts of Cambridge University's desire to preserve and share Newton's writing with the world. We surely live in a special time where technology has given us the ability to reach out and share knowledge with one another…a special thank you and Merry Christmas to Cambridge University…I look forward to reading the papers of Sir Isaac Newton..!
Pass it on,
Dr Anthony
---
This article titled "Sir Isaac Newton's own annotated Principia Mathematica goes online" was written by Stephen Bates, for The Guardian on Monday 12th December 2011 00.05 UTC
Cambridge University is putting the papers of Sir Isaac Newton online for the first time, including his own annotated copy of his greatest work, Principia Mathematica, with notes and calculations in his handwriting revising the book and answering critics.
So far, more than 4,000 pages, about 20% of the university's Newton archive, have been put into digital form as part of a programme that will eventually give the public access to the papers of other famous scientists, ranging from Darwin to Ernest Rutherford. Included in the papers are the handwritten notes made after Newton's death, in 1727, by his colleague Thomas Pellet, who was asked by relatives of the great scientist to examine the papers with a view to publication.
Pellet's dismissive note, saying "Not fit to be printed", can be seen on some pages – which are now, inevitably, among those most closely studied. It is thought Pellet was attempting to censor some of Newton's more juvenile calculations and, more urgently, stifle his unorthodox religious views.
Grant Young, the university library's digitisation manager, said: "You can see Newton's mind at work in the calculations and how his thinking was developing. His copy of the Principia contains pages interleaved with the printed text with his notes.
"The book has suffered much, pages are badly burned or water-stained, so it is very delicate and rarely put on show. Before today anyone who wanted to see these things had to come to Cambridge and get permission to see them, but we are now bringing Cambridge University library to the world at the click of a mouse."
Other papers now released come from Newton's notebooks and the "waste book" he carried with him to continue his work while the university was closed down during the Plague in 1665.
These documents show his initial work in understanding calculus.
Among the next papers to be released will be those of the 18th-century Board of Longitude, which was charged with securing a more accurate method of navigation at sea.
The records of the early astronomers royal, including Edmund Halley and John Flamsteed, will also be put online. Charles Darwin's papers are already being published separately online but eventually will be incorporated into the digital project.
The science papers project has received an initial grant of £1.5m from the Polonsky charitable foundation, which supports research and higher education.
guardian.co.uk © Guardian News & Media Limited 2010
Published via the Guardian News Feed plugin for WordPress.