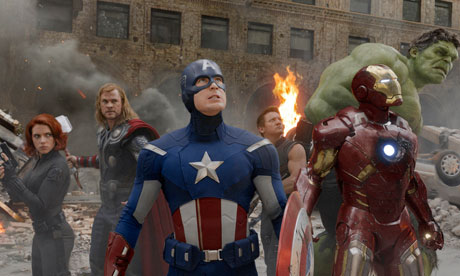 I have not seen the Avengers yet but all reviews give high ratings to the is film. A great cast and marvel comics makes for an exciting  time at the movies…so make plans with family and friends this weekend!
That's my comment…pass it on…
Dr Anthony
Yepod.com
---
This article titled "The Avengers sequel gets green light from Disney" was written by Ben Child, for guardian.co.uk on Wednesday 9th May 2012 14.11 UTC
A sequel to superhero blockbuster The Avengers has been officially greenlit after Joss Whedon's film racked up a staggering $700m at the global box office in just two weeks.
Disney chief executive Bob Iger made the announcement yesterday as the studio admitted that its earnings for the first quarter of 2012 dropped 12% to $1.2bn compared to the same period last year. The film unit's $84m operating loss for the quarter was blamed largely on the box-office failure of $275m fantasy epic John Carter earlier this year.
Iger also confirmed that Iron Man 3, Thor 2 (both set for 2013) and Captain America 2 (due in 2014) will all be heading to cinemas through Marvel studios, which Disney bought for $4bn in 2009. He did not give a date or other details for the sequel to The Avengers (known as Avengers Assemble in the UK).
Meanwhile it has been revealed that The Avengers helped boost revenues for the $220m film via product placement for at least 18 companies. The luxury car manufacturer Acura was most prominent, having secured a multi-picture deal with Marvel, according to Brand Channel. The company developed a special supercar especially for the movie, Tony Stark's NX Roadster, and also provided a number of other vehicles for key scenes. Other featured brands included ABC, aussieBum, Bose, CNN, Dr Pepper, Harley-Davidson and Southwest Airlines.
The Hollywood Reporter revealed yesterday that British actor Rebecca Hall is in talks to appear opposite Robert Downey Jr in Iron Man 3, following Jessica Chastain's decision to pass on the film due to scheduling issues. Shane Black, director of Kiss Kiss, Bang Bang, will take the reins on the third instalment.
guardian.co.uk © Guardian News & Media Limited 2010
Published via the Guardian News Feed plugin for WordPress.