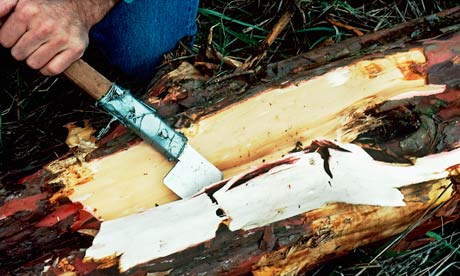 The forests and jungles are being harvested faster than it can be replaced. Trees are an important resource that needs to be protected from extinction. I am surprise that we are still talking about saving trees…its time to shut up and take action…save our trees before its too late…where is my medicinal tree?
Pass it on,
Dr Anthony
---
This article titled "Medicinal tree used in chemotherapy drug faces extinction" was written by Hanna Gersmann and Jessica Aldred, for The Guardian on Thursday 10th November 2011 07.30 UTC
A species of Himalayan yew tree that is used to produce Taxol, a chemotherapy drug to treat cancer, is being pushed to the brink of extinction by over-harvesting for medicinal use and collection for fuel, scientists warned on Thursday.
The medicinal tree, Taxus contorta, found in Afghanistan, India and Nepal, has seen its conservation status change from "vulnerable" to "endangered" on the IUCN's annual "red list" of threatened species.
Taxol was discovered by a US National Cancer Institute programme in the late 1960s, isolated in the bark of the Pacific yew tree, Taxus brevifolia. All 11 species of yew have since been found to contain Taxol. "The harvesting of the bark kills the trees, but it is possible to extract Taxol from clippings, so harvesting, if properly controlled, can be less detrimental to the plants," said Craig Hilton-Taylor, IUCN red list unit manager.
"Harvest and trade should be carefully controlled to ensure it is sustainable, but plants should also be grown in cultivation to reduce the impact of harvesting on wild populations," he added.
The red list is currently the most detailed and authoritative survey of the planet's species, drawn from the work of thousands of scientists around the globe. For the first time, more than 61,900 species have been reviewed. The latest list categorises 801 species as extinct, 64 as extinct in the wild, and 9,568 as critically endangered or endangered. A further 10,002 species are vulnerable, with the main threats being overuse, pollution, habitat loss and degradation.
Tim Entwisle from the Royal Botanic Gardens, Kew, said: "There are 380,000 species of plants named and described, with about 2,000 being added to the list every year. At Kew we estimate one in five of these are likely to be under threat of extinction right now, before we even factor in the impacts of climate change."
The Chinese water fir, for example, which was formerly widespread throughout China and Vietnam, is critically endangered. The main cause of decline is the loss of habitat to expanding intensive agriculture. The largest of the recently discovered stands in Laos was killed through flooding for a newly constructed hydropower scheme.
In the granitic Seychelles Islands, 77% of the assessed endemic flowering plants are at risk of extinction, including the Coco de Mer, which is illegally harvested for its supposed aphrodisiac properties.
Some 25% of all mammals were deemed to be at serious risk, according to the list. The black rhino in western Africa has officially been declared extinct. The white rhino in central Africa is on the brink of extinction and has been listed as possibly extinct in the wild. In Vietnam, poaching has driven the Javan rhinoceros to extinction, leaving the critically endangered species' only remaining population numbering less than 50 on the Indonesian island that gave it its name.
But it is not all bad news for conservationists. Przewalski's horse, also known as the Mongolian wild horse, was listed as extinct in the wild in 1996. Thanks to captive breeding and a successful reintroduction programme, the population in central Asia is now estimated at more than 300 and the wild horse has improved its status from critically endangered to endangered.
"This update offers both good and bad news on the status of many species around the world," said Jane Smart, director of the IUCN Global Species Programme. "We have the knowledge that conservation works if executed in a timely manner, yet, without strong political will in combination with targeted efforts and resources, the wonders of nature and the services it provides can be lost forever."
The overall message is that biodiversity continues to decline and governments need to take action to achieve the goal of a 10-year plan that was agreed on the international biodiversity summit in Japan last year. It reads: "By 2020 the extinction of known threatened species has been prevented and their conservation status, particularly of those most in decline, has been improved and sustained."
guardian.co.uk © Guardian News & Media Limited 2010
Published via the Guardian News Feed plugin for WordPress.